INSOMNIA GAMING FESTIVAL JOINS GUILDHALL GAMES FEST
Gamers! You will not want to miss Guildhall Games Fest coming to Portsmouth Guildhall on Saturday 1st and Sunday 2nd February. 6 zones, spread over 3 floors, across 2 days and now with INSOMNIA Gaming Festival announced as a major new Content Partner!
In a unique partnership outside of their NEC mega event, INSOMNIA Gaming Festival will be uniting players for a weekend of gaming fun in Portsmouth, showcasing the biggest games including Fortnite and Overwatch, hosting multiplayer tournaments and bringing Virtual Reality experiences to Guildhall Games Fest.
Guildhall Games Fest celebrates more than 40 years of gaming, from Pong and Pac Man to Mario and Minecraft, with an unbeatable selection of board games, retro and modern games and VR experiences.
A fantastic line up featuring: Experimental VR experiences and gaming demos from the University of Portsmouth Tabletop party games brought to you by Asmodee ET wooden game tournamentswill be providing a rare chance to try games that are currently in-development Dice Board Gaming will be bringing a slew of boardgames to the main auditorium as well as a Keyforge tournament Game Over will be providing a fantastic collection of arcade set ups and running a Saturn Bomberman tournament Game Over's Family Zone where mini gamers can play with giant jenga, connect 4, race friends and family on scalextric, and dance the day away on floor pianos. There is something for every age. Reign by Novatech will be running the LAN zone featuring multiplayer PC set-ups and VR games like Beat Sabre and more Plus we have Sneaky Dog Escapes platforming Assassins Creed "Escape the Pyramid" VR experience It's going to be one of the most gaming filled weekends of the year!

Play on every games console imaginable, from the Vectrex to the Game Cube, from Playstation 1 to Pong on the Binatone TV Master IV and XBOX. Browse the library of hundreds of exciting board games to play, with dedicated staff members on hand to recommend a game for you and then teach you how to play it. Why not challenge your friends and family with 2-player games and compete in tournaments to be the Games Fest champion! And for an other-worldly experience, step into our dedicated VR room and battle space aliens in another dimension…

More content to be announced.

The event is open to all ages (under 14s to be accompanied by an adult).

We aim to cover all genres - from family classics such as monopoly and cluedo, to modern hits such as Dead of Winter, King of Tokyo and Sheriff of Nottingham.

Join us for Portsmouth's leading Retro, Modern and Board Gaming festival!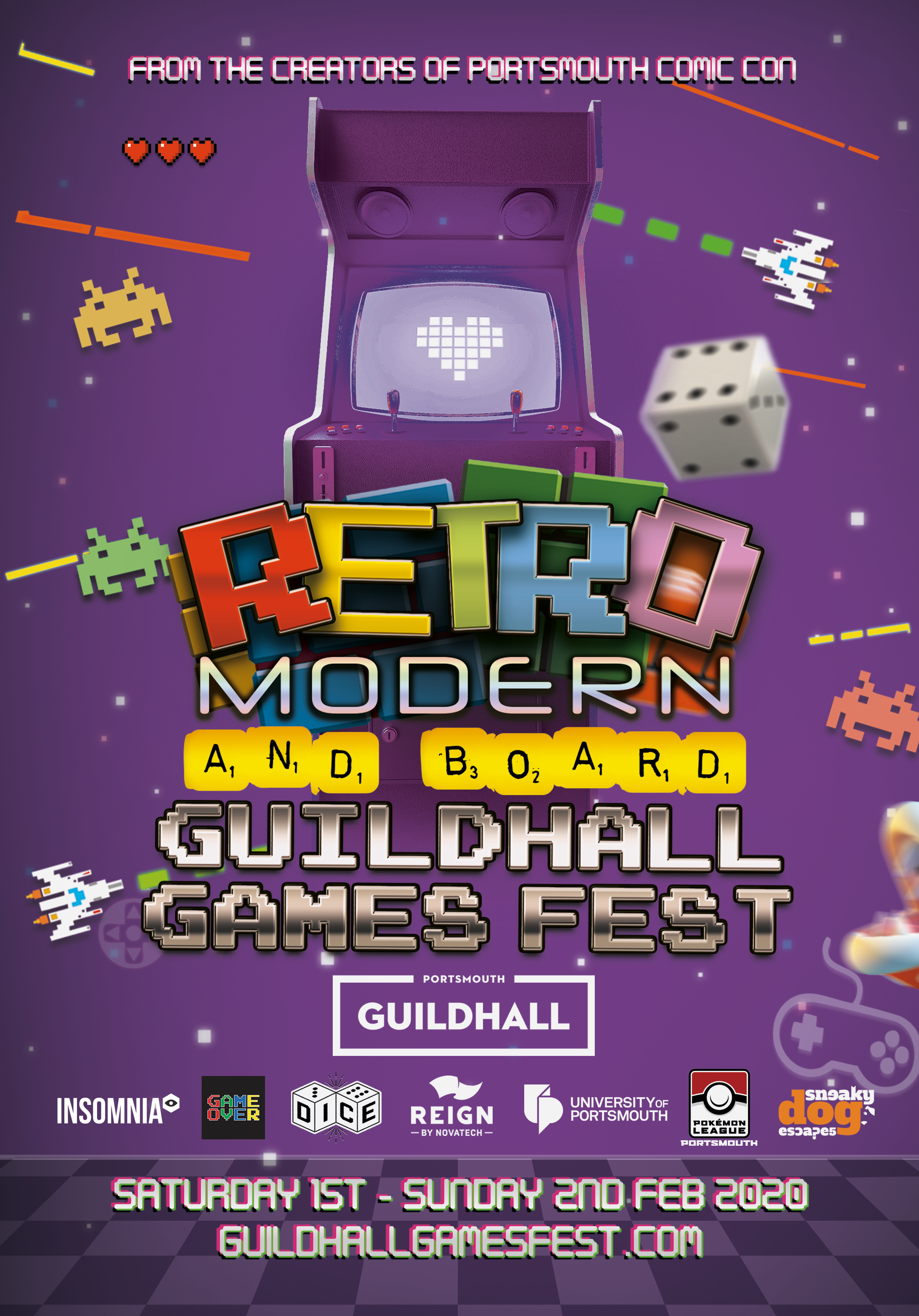 Play Guildhall Games Quest
Get ready for GuildHall Games Fest with our free game, Guildhall Games Quest!
Best played in full screen or on mobile! Press "J" to start!
Want to receive our e-newsletter updates?
Just fill out the form below to receive updates on Guildhall Games Fest.
We promise to keep emails to maximum once per week!
IMPORTANT INFORMATION
Children 14 and under must be accompanied by an adult 18+
Bag searches may be applicable
No externally bought food/drinks/liquids are allowed
 Don't forget about our food options:
Portsmouth Guildhall's Square Kitchen will be open throughout the event, serving up its famous pizzas and also burgers and chips, alongside their salad bar and bakery. Bars will also be open throughout the day serving both alcoholic and non-alcohol drinks.
Traders
This year you can also browse our selected traders at Guildhall Games Fest!
is one of the UK's largest officially-sanctioned competitive Pokémon event organisers. Each week, players of all ages attend our casual sessions to play and battle with the Pokémon Trading Card Game and video games. Some come along just to chat and make friends!
---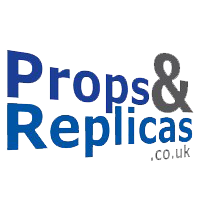 Props and Replicas.co.uk is a UK based supplier of high quality props and replicas from Film, TV, Anime & Video Games. We also offer a range of Cosplay & LARP equipment & Replica weaponry from Film, TV, Anime & Video Games.
---
The Mystery of Nelson's Diamonds will be showcasing their latest illustrated treasure hunt book 'The Mystery of Nelson's Stolen Diamonds' which takes participants on an adventure around Old Portsmouth on the hunt for an elusive diamond thief.
---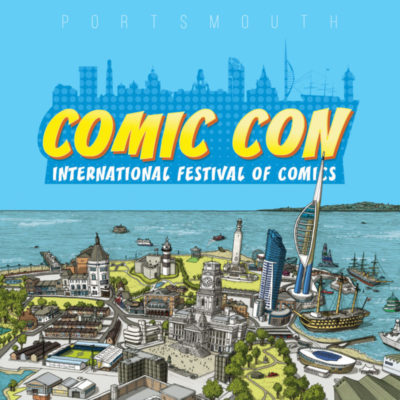 Portsmouth Comic Con is an event set up by The Guildhall Trust, who also put together Clocktower Classics, Big Mouth Comedy Festival and of course Guildhall Games Fest! Get your exclusive merch for these events here, not available from anywhere else!
---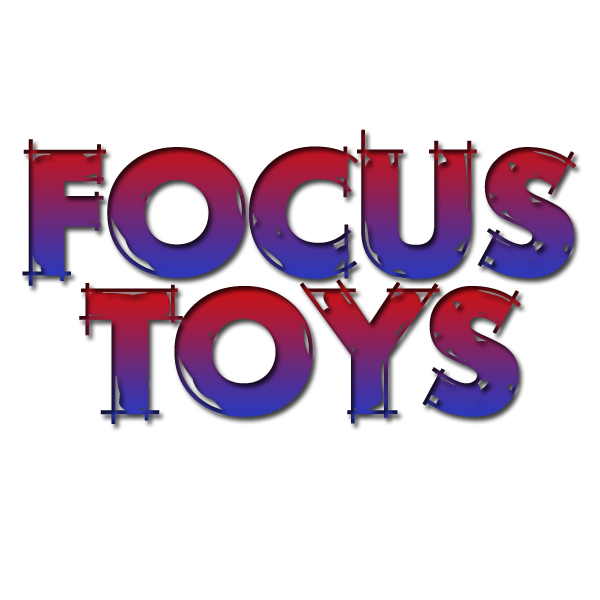 Focus Toys is a used an new toy trader, collecting and selling a mix of the best a rarest collectables you can find
---
Contact
Before you get in touch with us here are some answers to frequently asked questions:
Can I exhibit/trade at this event?


We are now able to take applications for traders. Either email [email protected] directly or use the adjacent form.
Will there be food and drinks available at this event?


Portsmouth Guildhall's Square Kitchen will be open throughout the event, serving up it's famous pizzas and waffles, alongside their salad bar and bakery. Bars will also be open throughout the day serving both alcoholic and non-alcohol drinks.
What board games and retro games will be available to play?


Dice Portsmouth and Game Over Portsmouth will be bringing their full catalogue of games, with hundreds and hundreds of games to choose from spanning across many generations. You will not be stuck for choice that's for sure!
Is this event wheelchair accessible?


As with all events at Portsmouth Guildhall the venue and event is fully accessible to people of all needs. Should you have any concerns about accessibility at the venue please contact: 023 93870 200. Free carer tickets are also available to this event.
How can I join this event as a sponsor?


We are welcoming sponsorship to this event, should you wish to get on board please contact [email protected]
In what areas of the Guildhall will this event be taking place?


The event will be focused in Portsmouth Guildhall's main auditorium, with board games and retro gaming taking over the whole of the area.
Will there be tickets available on the door?


The capacity for the event is capped at 2000, so we recommend buying your tickets sooner rather than later to avoid disappointment. At Portsmouth Comic Con we sadly had to turn people away due to selling out during the course of the days events.
Can I apply for a press-pass for this event?


We are welcoming press applications to this event, should you wish to get on board please contact [email protected]
Will there be cosplay?


As with Portsmouth Comic Con we not only welcome but encourage cosplayers to our event!
Still need to get in touch?
Please use the form below:
Our Partners and Sponsors