DETAILS
Gamers, prepare to get your geek on as the ultimate retro and board gaming festival comes to Portsmouth Guildhall in August.
Guildhall Games Fest celebrates more than 40 years of gaming, from Pong and Pac Man to Mario and Minecraft, with an unbeatable selection of board games and retro games consoles to play on.
This new event is a collaboration between Portsmouth Guildhall, Dice Portsmouth and Game Over. All organisations that were integral to the organisation of the hugely successful Portsmouth Comic Con earlier on in 2018.
You will be able to play your friends on every single games console imaginable, from the Vectrex to the Game Cube, from Playstation 1 to Pong on the Binatone TV Master IV. There is also a library of hundreds of exciting board games to play, with dedicated staff members on hand to recommend a game for you and then teach you how to play it. Alternatively just grab a seat, browse the shelves for a game and get cracking!
We aim to cover all genres - from family classics such as monopoly and cluedo, to modern hits such as Dead of Winter, King of Tokyo and Sheriff of Nottiboangham. In fact we welcome any suggestions today from our backers and will be constantly adding new games to the library once we open. 
Join us for Portsmouth's leading Retro and Board Gaming festival!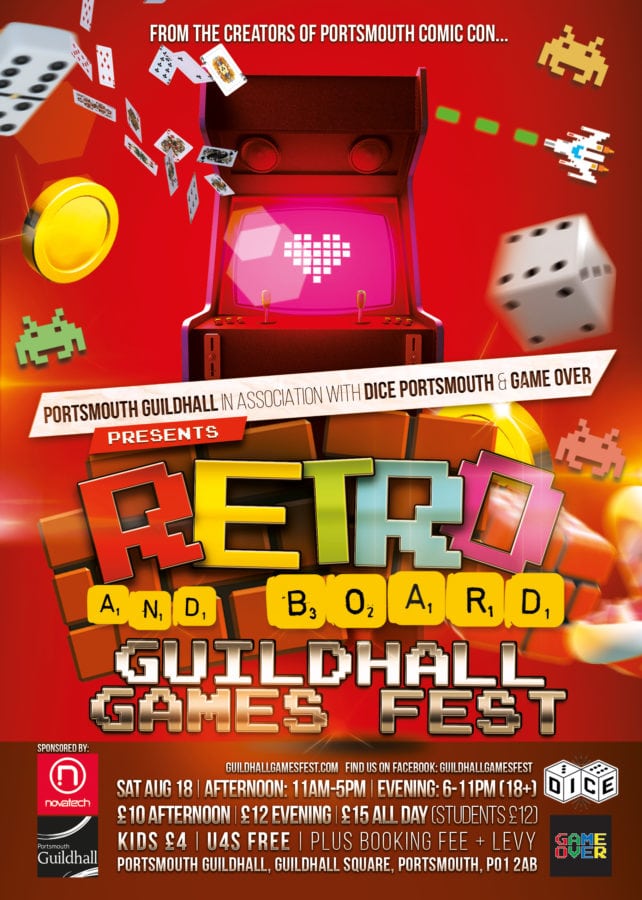 Want to receive our e-newsletter updates?
Just fill out the form below to receive updates on Guildhall Games Fest.
We promise to keep emails to maximum once per week!
Tickets
Tickets will be available imminently from Ticketmaster at the following prices:
Under 14's must be accompanied by an adult
All Day
11AM-5PM & 6-11PM
All proceeds from this event will go towards the building of Portsmouth Guildhall's new studio, we thank you for your support!
Taken at Portsmouth Comic Con:
Contact
Before you get in touch with us here are some answers to frequently asked questions:
Can I exhibit/trade at this event?


We are unable to accept applications for traders at this time. Dice Portsmouth and Game Over Portsmouth are the exclusive traders/partners of the event. We can however accept applications to trade at Portsmouth Comic Con, and may open applications for future gaming events
Will there be food and drinks available at this event?


Portsmouth Guildhall's Square Kitchen will be open throughout the event, serving up it's famous pizzas and waffles, alongside their salad bar and bakery. Bars will also be open throughout the day serving both alcoholic and non-alcohol drinks.
What board games and retro games will be available to play?


Dice Portsmouth and Game Over Portsmouth will be bringing their full catalogue of games, with hundreds and hundreds of games to choose from spanning across many generations. You will not be stuck for choice that's for sure!
Is this event wheelchair accessible?


As with all events at Portsmouth Guildhall the venue and event is fully accessible to people of all needs. Should you have any concerns about accessibility at the venue please contact: 023 93870 200. Free carer tickets are also available to this event.
How can I join this event as a sponsor?


We are welcoming sponsorship to this event, should you wish to get on board please contact [email protected]
In what areas of the Guildhall will this event be taking place?


The event will be focused in Portsmouth Guildhall's main auditorium, with board games and retro gaming taking over the whole of the area.
Will there be tickets available on the door?


The capacity for the event is capped at 2000, so we recommend buying your tickets sooner rather than later to avoid disappointment. At Portsmouth Comic Con we sadly had to turn people away due to selling out during the course of the days events.
Can I apply for a press-pass for this event?


We are welcoming press applications to this event, should you wish to get on board please contact [email protected]
Will there be cosplay?


As with Portsmouth Comic Con we not only welcome but encourage cosplayers to our event!
Still need to get in touch?
Please use the form below:
Get a taste of some of the Board Games Dice will be bringing: